MAMR 5" TrueX Racing/Freestyle Frame.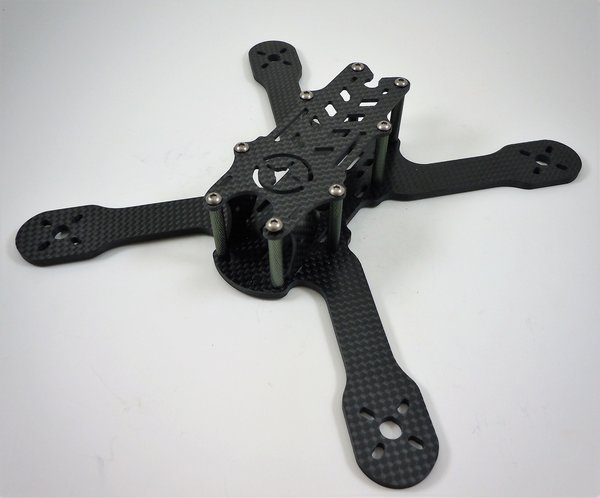 MAMR 5" TrueX Racing/Freestyle Frame.
MAMR 5" TrueX Racing/Freestyle Frame.
This frame took several months to design in collaboration with designer Byron Ortiz to get just right. After much testing with sponsored pilots and a few subsequent revisions, we have come up with a great (top plate mounted) unibody frame for racing or freestyle. A few design features include: top or bottom mounted battery option, XT60 cut out slot in frame, battery strap slots on top or bottom of frame, antenna cut out slot at rear, and FC mounting slots (that allow for moving the FC forward or back). This will be our flagship frame, with more versions coming later this year, to include a 5" StretchX (currently in testing), 4" TrueX, and 4" StretchX. In an effort to keep carbon cost down, and parts available when needed, both the 5" and 4" series of frames will use the same top plate, and camera mount side plates. To help reduce weight and for durability, we chose to use Titanium M3 button head bolts.
3D printed accessories
for the frame.
*Due to such tight tolerances the camera mount side plates may need a little filing in order to fit. Please use proper safety precautions when doing so.
*For structural integrity 4 motor bolts need to be used. Using 2 motor bolts can cause a weak point on the arms near the motor area.
Specs:
Frame 215mm (diagonal measurement from motor center to motor center)
Width 184mm (outer edge to outer edge)
Length 184mm (outer edge to outer edge)
Height 39mm (minus foam arm pads)
Weight Assembled 89g (frame, top plate, camera mount side plates, standoffs, M3 bolts)
Parts Included in kit:
1 - 4mm carbon fiber unibody frame
1 - 2mm carbon fiber top plate
2 - 2mm carbon fiber camera mount side plates
8 - 5mmx30mm M3 knurled standoffs
8 - M3x10mm Titanium button head bolts
8 - M3x12mm Titanium button head bolts
4 - M3x10mm Aluminum black button head bolts (for FC/PDB stack)
5 - M5 Low profile color coordinated prop lock nuts
*TPU 3D printed accessory parts
Recommended:
Flight Controller:
CL Racing F4S
or
X-Racer F303
Motor:
Brother Hobby Returner R4
or
EMAX RS2306
Esc:
Aikon SEFM 30A
or
Spedix 30a HV
Props: 5"
Dal Cyclone T5046C
or 5"
HQ DP 5x4x3 PC V1S
Battery:
Tattu 3S 1300mAh
or
Tattu 4S 1300mAh
Your favorite
FPV gear
and radio TX / RX
Sponsored pilot Steve ripping around his backyard with the MAMR 5" TrueX.
Steve's MAMR 5" TrueX RTF