iSDT SC-608 DC Smart Charger (6S/8A/150W)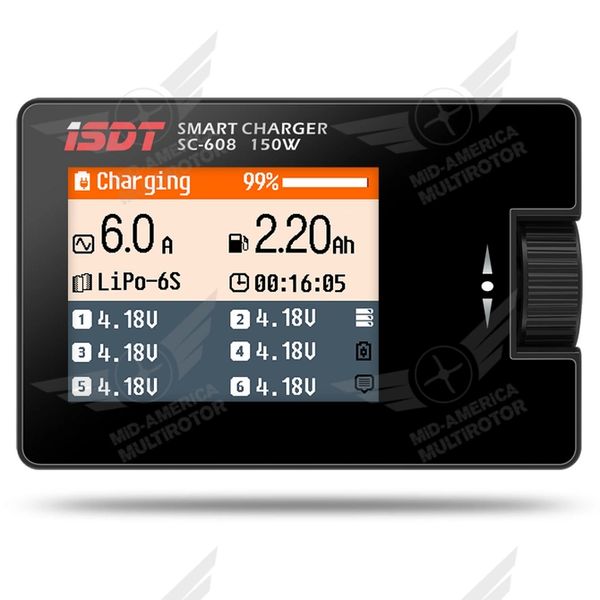 iSDT SC-608 DC Smart Charger (6S/8A/150W)
The iSDT SC-608 Compact DC Lithium Battery Charger features iSDT's innovative scOs user interface, simple operation, and hi-efficiency energy-converting - all packed inside an extremely compact 88x58x21mm footprint. And that it's just the beginning... 

Features: 

2.4" IPS Display: 262K colors Hi-brightness monitor, up to 178° visible angle, with outstanding visibility.
scOs developed for smart charging: Colorful and bright UI design, with optimized display information makes setup & working status easy to read. Quick & simple function menu reduces operating steps up to 80%. Supports online update with PC, for an optimized operating system, and improved user experience.
ARM 32bit Hi-speed CPU:

ARM Cortex-M4
32bit ultra fast calculations
20X Data processing

High Efficiency, Extreme Power to Volume Ratio: Hi speed & efficient synchronous power supply, good heat-conduction with pure cooper, and an active heat-sink with hi-speed fan make it possible to improve power by 300%. No charger in this size is more powerful.
Single Knob Shuttle Control: The smooth and natural single knob requires simply rolling up and down to navigate the menu. Push the knob in to select. Thats it. Simple.
Outstanding Design: This unique design is incredibly small with 150w output capacity. XT-60 connectors are used for input & output, allowing you to safely connect your battery.
Specifications: 
Input Voltage: DC 9-32V 
Output Voltage: 0-30V 
Charge Current: 0.1-8.0A 
Discharge Current: 0.1-3.0A 
Max Charge Capacity: 150W 
Max Discharge Capacity: 5W 
Balancing Current: 500mA/cell 
Balance Cells: 2-6S 
Supported Batt. Type: : LiFe/Lilon/LiPo/LiHv (1-6S), NiMH/Cd(1-16S), Pb(1-12S) 
Display: 2.4" 320x240 IPS LCD 
Operating Temperature: 0-40°C 
Storage Temperature: -20-60°C 
Dimensions: 88x58x21mm 
Weight: 110g
Operation Instruction:

Connect power supply, wait for initiation self-check to finish
Set parameters suitable for your battery through display and shuttle knob
Enjoy smart and quick charging with SC-608.
SC-608 instructions