EMAX RS1106 Micro Brushless Motor (1 pcs) 4500kv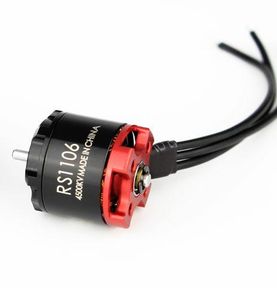 EMAX RS1106 Micro Brushless Motor (1 pcs) 4500kv
Legendary RS power for micro FPV racing quadcopters available in 4500 KV
The new RS1106 brushless motor line sets a new standard in performance for the 2" propeller class. With 3 KV choices each optimized for 2s, 3s and even 4s batteries for insane speed in tiny package.
The RS1106 has 6mm tall stator to provide the instantaneous torque that is usually lacking in high KV 1104 motors. The RS1106 is also one of the only micro brushless motors with active cooling fins integrated into the bell to keep magnets cooler so the power is consistent lap after lap.
For micro builds it's important to have as little mechanical vibration to get the best performance from your flight controller. To ensure smoothness each motor is precision CNC, uses premium ball bearings and comes factory balanced.
The bell housing has two sizes of hole spacing to fit M2 x 5mm that works with a wide range of other 2" class propellers. Two lengths of mounting screws are included for so it will fit a wide range of frame styles.
RS1106 4500KV this the motor if want insane punch with efficiency when using 4s batteries. This motor can also spin lightweight 3" propellers up 3s
1.Most powerful micro motors for 2" to 3" propellers
2.RS exclusive "Cooling" design on a micro sized motor
3. 3 KV options 4500KV
4. Prop bolt pattern M2 x 9mm and M2 x 5mm Propellers
5.High Quality NSK bearings for long lasting smoothness
6. Strong N52SH Magnets
7. Factory Balanced Precision CNC Motor Bells