Beecore F3 EVO Brushed ACRO Flight Control Board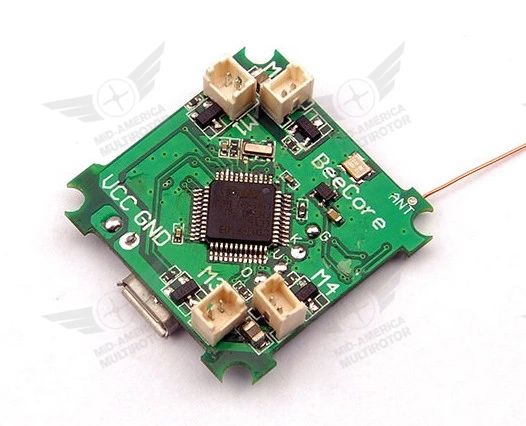 Beecore F3 EVO Brushed ACRO Flight Control Board
Beecore F3 EVO Brushed ACRO Flight Control Board
This board is designed to work with current BeeDuctrix / Whoop / Inductrix / Eachine E010 setups, just replace the current board with our new BeeCore mainboard and experience the next level of flight control.
(Please note:product photos are of beta board, final board will look a bit different with some design improvements such as placement of USB port in best accessible location)

*Currently this version of the Beecore Flysky FC does not work with the Turnigy Evolution Radio or the Turnigy TGY-i6S Radio

Specifications:
STM32 F303 processor
Six-Axis: MPU6500
Size: 2mm x 26mm
Weight: 3 grams

Features:

The Beecore F3 EVO controller is available in three versions (FRsky, DSM, and Flysky).
Cleanflight ready, born for acro flight controller for the BeeDuctrix / Whoop / Inductrix quad!
Full Cleanflight/Betaflight compatibility on a STM32 F303 F3_EVO 3x1 style processor.
Fully programmable through Cleanflight / Betalfight using the onboard USB port! Tune all the parameters, PID's, and rates to your perfect settings!
High discharge battery connector wire for more power and performance.
Can fly your Inductrix style quad in full rate mode (or even air mode!), fully execute flips/ rolls, and shoot the smallest of gaps with precision! Tuned to give you that locked in feeling you get with standard race quads.

Package included:
1 x Beecore F3 ACRO Flight Control Board